Richard Uilenberg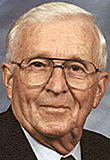 Richard Uilenberg, 89, of Harrison, SD passed away Friday, December 19, 2014 at the Platte Care Center. Funeral Services are 10:30 A.M. Wednesday, December 24, 2014 at the Harrison First Reformed Church. A Committal Service with Military Honors will follow at the Harrison Cemetery. Visitation will be held from 5:00 - 7:00 P.M. Tuesday, December 23, 2014 at Mount Funeral Home in Platte with a 7:00 P.M. Prayer Service.
Richard Peter Uilenberg was born on May 13, 1925 at home in Harrison, SD to Tiddens and Maggie (Tuinstra) Uilenberg. He attended elementary school in Harrison and graduated from Corsica High School in 1943. He served in the US Navy from 1943 to 1946, spending 2 years on the island of Guam. Following his time in the service he became a rural mail carrier with the US Postal Service where he served a 44 year career. After retiring from the postal service he and his wife worked for 4 years in a motel in Keystone, SD. He then worked 8 years for Ron Van Zee Gravel.
Richard was united in marriage to Charlotte (Teeselink) Lieuwen on April 6, 1955 at the Corsica CRC parsonage. Together they shared 59 happy years. They enjoyed traveling to visit children, grandchildren and great grandchildren. Rich's happiest times were road trips, whether by road or rail; whether for work or pleasure, but he always found his way home to his beloved Harrison. He became a resident of the Platte Care Center on June 30, 2014, where his wife and daughter faithfully and lovingly visited him daily.
He was a faithful, lifelong member of the Harrison First Reformed Church. He was active in community service including the school board, consistory, local cemetery board and many others.
Rich leaves behind his cherished wife, Charlotte; mother-in-law, Gertrude Teeselink; four children: Judy (Harlan) Veurink whom he gained by marriage, Brent (Carrie) Uilenberg, Joy (Craig) Wagner, and Kim Fishman; six grandchildren: Jade (Angie) Veurink, Jared (April) Veurink, Josh (Jenn) Veurink, Tia Wagner, Mackenzie Uilenberg and Mallory Uilenberg; nine great grandchildren: Grace Veurink, Gabe Veurink, Grant Veurink,Grayden Veurink, Gia Veurink, Bentley Veurink, Berklee Veurink, Briggs Veurink and Trystan Bridge; one sister, Ruby DeVries; 4 sisters-in-law: Rachel Carron, Betty VanZee, Mary Brink and Jill Gruenewald; along with numerous other family and friends.
Rich was preceded in death by: his parents, Tiddens and Maggie Uilenberg; father-in-law, John Teeselink; sister, Renzina Uilenberg; brother, Dirk Uilenberg; grandson, John Veurink; two nephews: Jerry Uilenberg and Dave DeVries; and three brothers-in-law: Ray DeVries, Howard VanZee and Larry Brink.
Memorials in Rich's honor may be directed to: First Reformed Church, New Sound System Fund, 350 3rd St., Harrison, SD 57344 or Compassionate Care Hospice Foundation (CCHF), 3415 N. Potsdam Ave., Sioux Falls, SD 57104.