Robert Noteboom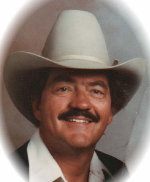 Robert Dean Noteboom, 65, died near Mooreland, OK on Saturday, April 18, 2009. Funeral service will be Wednesday, April 22, 2009 at 10:00 AM at the Christian Reformed Church in Corsica with burial following in Graceland Cemetery in Corsica. Visitation will be Tuesday, April 21 2009 from 6 – 8 PM at Koehn Bros. Funeral Chapel in Corsica with a prayer service at 7:00 PM.
Robert Dean Noteboom was born on February 28, 1944 to Martin and Marie (Bobeldyk) Noteboom in Douglas County, SD. He attended school in Corsica, SD. At age 17 he worked for Brink Construction building power lines. He then worked for Ron Thiel Construction for the next 14 years until he took over his fathers farm after he retired from 1975 to 1983, He then went back to work for Ron Thiel Construction and was currently working for Chapman Construction as a field superintendent. Robert enjoyed his work and the travel that was required, collecting Native American artifacts, western movies, country music, and telling stories. He died on Saturday, April 18, 2009 near Mooreland, OK at the age of 65.
He is survived by 2 daughters: Shannon Marie Noteboom of Bismark, ND and Kimberly AnnWagner of Mandan, ND; mother, Marie Noteboom of Corsica, SD; 3 grandchildren: Jessica and Dean Broom of Bismark, ND and Tyler Wagner of Mandan, ND; special friend, Linda Perkins of Texas, brother, Larry Noteboom and wife, Barbara of Corsica, SD; sister-in-law, Juna Noteboom of Corsica, SD, and many nephews.
He was preceded in death by his father, Matrin, brother, Roger, and son-in-law, Korey Wagner.
Robert was recognized for his kindness and his soft heart and was respected and loved by all who knew him.