Royce Van Zee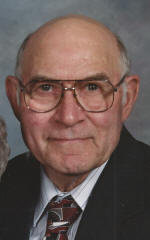 Royce Van Zee, 94, died at Douglas County Memorial Hospital in Armour on Wednesday, July 17, 2019. Funeral service will be Saturday, July 20, 2019 at 2:00 PM at Christian Reformed Church in New Holland with visitation an hour prior to the service. Burial will follow the service in New Holland Cemetery. Arrangements by Koehn Bros. Funeral Home in Armour.
Royce Van Zee was born on September 16, 1924 to Peter and Gertrude (Poelstra) Van Zee. He grew up on the family farm south of New Holland. He attended country school near New Holland. He entered the United States Army in 1945 during World War II. He was assigned to the military motor pool as a mechanic while serving with the Occupation Forces in Japan. Upon returning from military services he married Phyllis De Waard on March 13, 1947 in Stickney, SD.
The couple farmed in Douglas County until retiring in 1991. After retiring from the farm, they moved to Platte and later relocated to Corsica. Because of his interest in mechanics and working on engines, Royce worked for several years in a small engine repair shop while living in Platte.
Royce was a member of the Christian Reformed Church in New Holland, since his baptism there in 1924. His life was a reflection of his love and gratitude to the Lord and he put his faith into action in his work and relationships with others.
He resided in Leisure Living Assisted Living in Corsica for the past 6 years. He died at Douglas County Memorial Hospital in Armour on Wednesday, July 17, 2019 at the age of 94.
He is survived by 3 children, Kathleen (Ron) Holwerda of Lansing, IL, Kenneth (Lanetta) Van Zee of Armour, SD and Wanda (Conley) Schaap of Edgerton, MN, 10 grandchildren, 13 great-grandchildren, sister-in-law, Amy DeVries of Omaha, NE, and many nieces and nephews.
He was preceded in death by his wife, Phyllis, parents, 4 brothers, 5 sisters, and a great-grandson.
Memorials may be directed to Bible League or Dakota Christian School.
Officiating - Rev. John Gorter
Music - Deb Van Zee, organist and soloist
Casket Bearers - Family and Friends