Ruth Hoekstra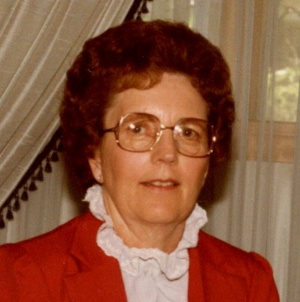 Ruth Catherine Hoekstra, 87, passed away Tuesday, April 17, at the Corsica Good Samaritan Society. She died peacefully, surrounded by her family, following a courageous 30 year battle with Parkinsonís disease. A celebration of life will be held Saturday, April 21, at 2:00 pm at the Grace Reformed Church in Corsica, SD. Visitation will be Friday from 5:00-7:00 pm at the Grace Reformed Church fellowship hall with a prayer service at 7:00 pm. Burial will be in the Graceland Cemetery, Corsica.
Ruth (Beukelman) Hoekstra was born on August 7, 1924 to Art and Rena Beukelman. She was baptized and made profession of her faith in the Harrison Reformed Church. She graduated from Corsica High School in 1941. She received her teaching degree from Southern State College, Springfield. On June 30, 1944 she married her high school sweetheart, Sidney Hoekstra, in Harrison. To this union three children were born.
Kind and loving mother, grandmother and great-grandmother, Ruth was devoted to her family and to her Savior. Ruth loved to entertain and everyone was always welcome in her home. She enjoyed baking and sewing, making many birthday cakes and clothes for her children and grandchildren, including baptismal dresses. Her love for children led her to teach in country schools while living on the farm and substitute in Corsica after moving to town in 1963. She sang in a womenís trio for many years and was active in Priscilla Club, Bible studies, Ladies Aid and taught Girlís League and Sunday school. Ruth and Sid were blessed to travel to most states and many foreign countries. They enjoyed traveling south for the winter for almost 30 years. They purchased a home in Mesa, Arizona and spent winters there until health prohibited.
Grateful for having shared in Ruthís life are her children, Lee (Margeret) Hoekstra, Naperville, IL and children Christopher (Shanna) Hoekstra, Melissa (Brian) Hoekstra-Hecht, and Nicole Hoekstra; Roger (Lindi) Hoekstra, Idaho Falls, ID and children Ben (Beverly) Hoekstra and Zachary Hoekstra; Jeanne (Dan) Noteboom, Corsica and children Justin (Jackie) Noteboom and Jessica (Cody) Lieuwen; and three great-grandsons, Tayden Noteboom, Dakota and Easton Hoekstra. One sister, Erma (Bob) Klein, Stickney; one brother, Dennis (Lillian) Beukelman, Sioux Falls, and many nieces, nephews and friends.
Ruth was preceded in death by her husband of 67 years, Sidney, who passed away last August and her parents.
In lieu of flowers, memorials may be directed to the Hoekstra-Beukelman Scholarship Fund or the Gideons.
Officiating - Rev. Josh Benton
Music - Sharon Van Marel, organist; Kim Zomer, pianist; Bill Kortemeyer, soloist; Dwight Beukelman, soloist
Casket Bearers - Justin Noteboom, Christopher Hoekstra, Benjamin Hoekstra, Zachary Hoekstra, Jessica Lieuwen, Missy Hoekstra-Hecht