Ruth Olivier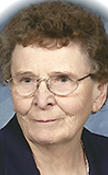 Ruth Olivier, 86, died peacefully at the Good Samaritan Center on Monday, October 27, 2014. Ruth was born February 11, 1928, in Running Water, SD to Peter and Dora (Vander Lei) Dykstra. She was the seventh of ten children. She and her siblings attended school in rural Running Water through the 8th grade.
As a young woman, Ruth worked at Luekens Bakery in Springfield. Later she moved to Luekens Mitchell location with two of her sisters, where they eventually purchased a house together. After 7 years of working for Luekens Bakery, Ruth met Marion Olivier and they married on June 27, 1958 at her home church of Emmanuel Reformed in Springfield, SD. The newlywed couple made their home in Corsica, SD, where they raised five children.
In the 1970s Ruth began babysitting children in her home, many of whom became an extension of the Olivier family. She was well-known and well-loved for her homemade mashed potatoes at nearly every meal. In 1996 Ruth retired from babysitting and became a librarian where she could enjoy her love of reading and encourage children to do the same.
Ruth was a faithful member of the Christian Reformed Church in Corsica, where she was a member of the Dorcas Society and attended coffee breaks and Bible studies. She enjoyed solving jigsaw puzzles, coffee with friends, and was an avid reader. She was an excellent baker, especially renowned for her apple pies and angel food birthday cakes, which she always decorated by hand. Ruth loved special visits from her brothers and sisters, where several rounds of Skip-Bo cards were enjoyed by all.
Ruth moved to Leisure Living in Corsica in 2013 and later moved to the Good Samaritan Center in Corsica on August 21, 2014.
She is survived by two sons, Jim (Michelle) Olivier of Sioux Falls and Mark (Jay) Olivier of Lamesa, CA; three daughters, Colleen (Gary) Woods of Gillette, WY, Marlys (Sam) Bunsu of Gillette, WY, and Deb (Steve) Enger of Cambridge, IL; four grandchildren, Michael and Trevor Woods, Tegan and Tanner Bunsu; two brothers, Jayson and Darwin Dykstra of Avon, SD; three sisters, Jessie Boersma of Springfield, SD, Marie VanderVeen of Wakefield, NE, and Mabel Ludens of Sioux Falls, SD.
She was preceded in death by her parents; husband, Marion; three brothers, Andrew, Raymond and Donald; and one sister, Annie Odens. Arrangements By Koehn Bros. Funeral Home- Armour