Sid Hoekstra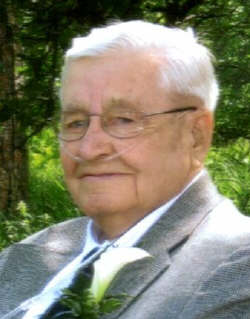 Sidney Hoekstra, 87, passed away on August 5, 2011 in Corsica surrounded by his family after a valiant battle with cancer. A celebration of life will be at 2:00 PM Monday, August 8, 2011 at Grace Reformed Church in Corsica with burial following in Graceland Cemetery in Corsica. Visitation will be from 7 - 9 PM Sunday, August 7, 2011 at Grace Reformed Church fellowship hall with a prayer service at 7:30 PM.
Sidney Hoekstra, son of Benjamin and Jennie (Ligtenberg) Hoekstra was born in Corsica on November 29, 1923. He was baptized and made profession of his faith in the Corsica Christian Reformed Church. He graduated from Corsica High School in 1941. On June 30, 1944 he married his high school sweetheart, Ruth Beukelman in Harrison. To this union three children were born.
All who knew Sid remember him as an avid story teller. His greatest joy was spending time with family and friends hunting, fishing and golfing. Sid farmed until 1963 and then went into partnership in the International Harvester business, Menning Implement. He retired in 1979, selling his business and that same year started Sid's Sales and Service (Easy on the service, please). He and Ruth were blessed to travel to most states and many foreign countries. They enjoyed traveling south for the winter for almost 30 years. They purchased a home in Mesa, AZ and spent winters there until health prohibited. Sid enjoyed woodworking and made curio cabinets and grandfather clocks for his children and doll houses for his grand-daughters.
Sid served as a deacon, elder, Sunday School teacher and was on the building committee for the Grace Reformed Church. He was president of the Corsica School Board for many years and was thankful to present diplomas to each of his children. Sid enjoyed being on the building committee for the new schools in Corsica. Sid was an ambassador of goodwill and worked hard to promote development in Corsica. He was a member of the Lions Club, Commercial Club, Development Corporation and served on many boards including Planning and Development of Dakota Classis.
Grateful for having shared in Sid's life are his wife of 67 years, Ruth, Corsica; Children: Lee (Margeret) Hoekstra, Naperville, IL; Roger (Lindi) Hoekstra, Idaho Falls, ID; and Jeanne (Dan) Noteboom, Corsica. Grandsons, Justin (Jackie) Noteboom, Sioux Falls; Christopher (Shanna) Hoekstra, Hinckley, IL; Ben (Beverly) Hoekstra, Boise, ID; and Zachary Hoekstra, Idaho Falls, ID. Granddaughters, Jessica (Cody) Noteboom-Lieuwen, Berwyn Heights, MD; Melissa (Brian) Hoekstra-Hecht, Naperville, IL; and Nicole Hoekstra, Naperville, IL. Great-grandsons, Tayden Noteboom, Sioux Falls; Easton and Dakota Hoekstra, Hinckley, IL. One brother, Dennis (Jeni) Hoekstra, Grand Rapids, MI; one sister-in-law, Willamena Hoekstra, Corsica; in-laws, Dennis and Lillian Beukelman, Sioux Falls, Bob and Erma Klein, Platte; and many nieces and nephews.
Sid was preceded in death by his parents, Ben and Jennie; in-laws, Art and Rena Beukelman; brother, Alfred; sisters, Irene Hoekstra and Margaret Kuipers.
In lieu of flowers, memorials may be directed to the Hoekstra-Beukelman Scholarship Fund, Gideons, or Lions.
Officiating: Rev. Jerry Buwalda, Rev. Joshua Benton, Rev. Nabil Nour
Music: Sharon Buwalda, organist; Jessica Lieuwen, soloist; Dwight Beukelman, soloist
Casket Bearers: Justin Noteboom, Christopher Hoekstra, Benjamin Hoekstra, Zachary Hoekstra, Cody Lieuwen, Brian Hecht
Honorary Casket Bearers: Jessica Lieuwen, Missy Hoekstra-Hecht, Nicole Hoekstra, Jackie Noteboom, Shanna Hoekstra, Beverly Hoekstra