Stan Hoekman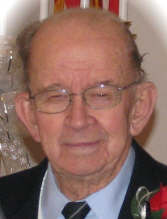 John "Stan" Hoekman, 87, died on February 3, 2011 at Douglas County Memorial Hospital in Armour. Funeral service will be Monday, February 7 2011 at 2:00 PM at the First Reformed Church in Harrison with burial following in Harrison City Cemetery. Visitation will be Sunday, February 6, 2011 from 4 - 6 PM at Koehn Bros. Funeral Chapel in Corsica, with a prayer service at 5:30 PM.
John Stanley "Stan" Hoekman was born on July 29, 1923 to Adrian and Lena (Doorn) Hoekman near Harrison, SD. He attended country grade school and then graduated from Corsica High School. He was baptized and became a member at the First Reformed Church in Harrison. He served on the consistory and grading papers for prisoners for the Crossroads Bible Institute. He served for 18 months in the United States Army. He married Margaret Kuyper on September 20, 1950 at her parents house near Stickney, SD. To this union, 5 children were born. Stan farmed near Harrison, was the owner and operator of the grocery store in Harrison, and was Postmaster in Harrison. He enjoyed doing jigsaw puzzles, playing games, watching sunsets, hunting and fishing. He died on Thursday, February 3, 2011 at Douglas County Memorial Hospital in Armour, SD at the age of 87.
He is survived by 4 children: Allen (Linda) Hoekman, Watertown, SD; Elva (Charles) Oppelt, Elkton, SD; Vera (David) Boender, Hickman, NE; and Larry (Tami) Hoekman, Tulare, SD; grandchildren: Heather, Heidi, Helen, and Hosanna Hoekman; Daryl Oppelt;, Sheri (Dustin) Hauschild; Cindy (Joseph) Spencer; Timothy (Dawn), Samuel, Caleb, and Elizabeth Boender; and Chris (Devan) and Glenn (Emily) Hoekman; great-grandchildren: Jackson, Dannyn, Cambree, Allie Jo, and Samantha; brother-in-law, Ivan (Jean) Kuyper, Corsica, SD; sisters-in-law: Lena Vander Wal, Corsica, SD; Evelyn Scholten, Brookings, SD; and Harriet Kuyper, Mitchell, SD.
He was preceded in death by his wife, Margaret on June 20, 2008, parents, daughter, Marilyn Larson, grandson, Lance Oppelt, sisters, Gertrude and Gertrude, four brothers-in-law and a sister-in-law.