Ted Maas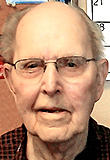 Ted Maas, 92, of Corsica, SD passed away Wednesday, February 4, 2015 at the Good Samaritan Society in Corsica. Funeral Services are 10:00 A.M. Saturday, February 7, 2015 at the Harrison Christian Reformed Church. A Committal Service will follow at Harrison Cemetery. Visitation will be held at the church from 5:00 - 7:00 P.M. Friday, February 6, 2015 with a 7:00 P.M. Prayer Service. In lieu of flowers, memorials in Ted's honor may be directed to: Dakota Christian School, 37614 SD Hwy 44, Corsica, SD 57328 or American Bible Society, PO Box 96812, Washington, D.C. 20090-6812.
Theodore Maas was born on April 24, 1922 to William and Dora (Sterk) Maas in Douglas County, SD near New Holland. He attended New Holland, Kosters and Marcus Country Schools. On December 4, 1946 Ted was united in marriage to Aletha Lefers in Douglas County. Together they farmed west of New Holland, then in Garden Valley before retiring in Corsica.
Ted was a member of the Harrison Christian Reformed Church, serving on the Consistory for many years, as well as on the School Board of the New Holland Christian School and Dakota Christian High School. He enjoyed hunting, fishing, golfing and wood working. He especially loved spending time with his family.
Grateful for having shared in Ted's life: his 5 daughters and 13 grandchildren: Jean and Don McMillan of Pittsburgh, PA, Philip (Miriam) McMillan, Kyle McMillan; Delores and John Keizer of Rapid City, SD, Andrew (Rebekah) Keizer, Robert (Tracy) Keizer, Joel (Hillary) Keizer; Cheryl and Bill Bunting of Springfield, CO, Cordell (Becky) Baan Hofman, Justin (Cora) Baan Hofman, Amanda (Steve) Tilley; Marilyn and Dan Derks of Dyer, IN, Carla (Chris) Huang, Katie (Tim) Geeve, Patti (TJ) Slager; Leanne and Chuck Augustine of New Town, PA, Matthew Augustine, David Augustine; 16 great-grandchildren; a brother, Harold Maas of Lynden, WA; three sisters: Jeanette Bergakker of Grandville, MI, Florence (Elmer) Nymeyer of Lynden, WA and Dorothy (Roger) De Haan of Hollandale, MN; a brother-in-law, Earl (Darlene) Lefers of Corsica, SD; two sisters-in-law: Ruth (Doc) Jongsma of Corsica, SD and Muriel (Howard) Hooyer of Cutlerville, MI; along with many nieces and nephews.
Ted was preceded in death by: his wife, Aletha Maas (Jan. 21, 2014); two great-granddaughters: Kaylee Derks and Camryn Slager; his parents, William and Dora Maas; an infant sister, Florence Maas; two brothers: Joe (Mildred) Maas and John Maas; and a brother-in-law, Lawrence Bergakker.