Tillie Hansum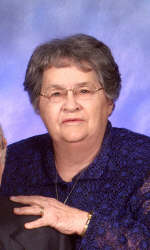 Tillie Hansum, 92, died at Good Samaritan Center in Corsica on Monday, March 12, 2018. Funeral service will be at Aurora Reformed Church in Aurora Center on Thursday, March 15, 2018 at 10:30 AM with burial following in Aurora Center Cemetery. Visitation will be Wednesday, March 14, 2018 from 6 - 8 PM at Koehn Bros. Funeral Home in Stickney.
Tillie Hansum, daughter of Albert and Elizabeth (Klein) Munneke was born October 16, 1926 in Douglas County, SD. She received her education in country schools and then was hired by various families to assist when they had newborn babies.
She married Joseph Hansum at her parents home north of Joubert on February 17, 1949, and to this union 3 daughters were born. After a year of marriage, they purchased their farm near Aurora Center. They lived there until retirement and moved to Corsica in 1998.
While an active member at Aurora Reformed Church, she took pride in teaching Sunday School and Bible School for many years and each student was special to her. They were very involved with community events.
Sewing was one of her passions and while active in Ladies Groups, both in Aurora Center and Corsica Reformed Churches, she volunteered many hours creating quilts and rugs for mission projects.
She enjoyed music, was church organist and also accompanied the Music Mixers who provided entertainment at many retirement homes. Tillie & Joe moved to Leisure Living in 2013, then moved to Good Samaritan Center in 2017. Tillie died at Good Samaritan Center on Monday, March 12, 2018 at the age of 91.
Those left to honor Tillie's memory include her 2 daughters, Sharon (Allen) Timmermans of Sioux Falls, SD and Mavis (Mike) Anderson of Mitchell, SD, 5 grandchildren, Carla (Damon) Green and their children, Isaiah & Callie of Akron, IA, Jeremy (Patti) Timmermans and their children, Adelynn, Easton & Ashton of Chancellor, SD, Jeris (Kristen) Timmermans and their children, Paige, Dawson, Wyatt, Mattelynn & Brooklynn of Aberdeen, SD, Ryan Anderson of Boise, ID, and Kim (Zachary) Hague and their children, Oakley & Ella of Rapid City, SD, sister-in-law, Martha Munneke, and several nieces and nephews.
She was preceded in death by her parents, infant daughter, Edna Sharlene, brother, Henry Munneke, infant grandson, Arlen Jon Timmermans, parents-in-law, Cornelius & Sophie Hansum, and brothers & sisters-in-law, Adrain & Frances Hansum and Raymond & Johanna Olivier.
Officiating: Rev. Dan DeGraff
Music: Vonnie Dykstra, organist Carla Green, soloist
Casket Bearers: Jeremy Timmermans, Jeris Timmermans, Damon Green, Isaiah Green, Zachary Hague, Ryan Anderson