Virginia Craw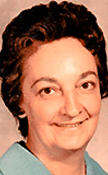 Virginia H. Craw 93, of Pierre died on Monday, July 13 at Avera Maryhouse Long Term Care in Pierre. Funeral services will be held on Friday, July 17 at 10:00am at the Isburg Funeral Chapel in Pierre with a viewing one hour prior to the services. Burial will be at 3:00pm at the Harrison Cemetery near Harrison South Dakota.
Virginia was born on August 2, 1921 in Winner South Dakota to George and Shirley (Osborne) Hosford. She grew up and attended school in Winner South Dakota. After graduating high school she traveled and lived in many places. She married Alfred Craw on March 6, 1944 in Reno Nevada. They made their home in California before moving back to South Dakota in the early 80's. Virginia worked as a librarian in different schools and loved to read.
She was a devoted member of the River City Baptist Church in Pierre.
She is survived by her daughter Jane (Tim) Schrank of Pierre, sister Velora Waller of Redding CA, three grandchildren and five great-grandchildren. She is preceded in death by her husband Alfred, brothers Charles and Ron, and sister Ruth.
Memorials can be directed to the River City Baptist Church.