Wilbur Beltman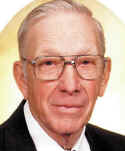 Wilbur John Beltman, 85, of Corsica, SD passed away Friday, September 7, 2018 at Platte Health Center Avera in Platte, SD. Funeral Services are 10:30 A.M. Monday, September 10, 2018 at the New Holland Christian Reformed Church. A Committal Service with Military Honors will follow at the New Holland Cemetery. Visitation will be held from 2:00 - 4:00 P.M. Sunday, September 9, 2018 at Mount Funeral Home in Platte with a 4:00 P.M. Prayer Service.
Wilbur John Beltman was born on January 19, 1933 to John A. and Barbara Bertha (Van Zee) Beltman in Clark Township, Douglas County, South Dakota on the family farm where he lived his entire life. He attended Helland School in Clark Township and went on to serve his country in the US Army from March 17, 1953 - March 15, 1955 during the Korean Conflict. Wilbur was united in marriage to Geneva Jongejeugd on April 3, 1957 on the family farm where they made their home and raised their family.
Wilbur was a hard worker, milking cows and furrowing hogs. He enjoyed going to farm sales, welding, building and fixing things. He was a member of the New Holland Christian Reformed Church and served as a Deacon and Elder. He was a member of the New Holland Christian School Board and the Clark Township Board. Family was important to Wilbur, he especially loved time spent with his grandchildren and great grandchildren.
Grateful for having shared in Wilbur's life: his wife of more than 61 years, Geneva Beltman of Corscia, SD; three children, four grandchildren and five great grandchildren: son, Trent (Janet) Beltman of Harrison, SD and their children: Eric (Heather) Beltman - Brooklyn and Blakely, Lance (Kristi) Beltman - Kaiden, Amy (Ty) Fuller - Lane and Maddy, Kyle Beltman; daughters: Jill (Dale) Rye of Renner, SD and Joy Beltman of Sioux Falls, SD; a brother, Albert (Dolly) Beltman of Platte, SD; a sister, Albertha (Will) Vreugdenhil of Corsica, SD; two brothers-in-law: Dennis Bordewyk and Cork (Galene) Eshuis; along with many nieces and nephews.
Wilbur was preceded in death by his parents, John and Bertha Beltman; a stepmother, Hilda Beltman; four sisters: Albertha (in infancy), Henrietta (Hank) Veurink, France (Orin) Van Zee and Jean (Bob) Brumbaugh; his father and mother-in-law, Jerry and Jeannette Jongejeugd; and two sisters-in-law: Carol Bordewyk and Shirley Eshuis.
In lieu of flowers, memorials in Wilbur's honor may be directed to: Dakota Christian School, 37614 SD Hwy 44, Corsica, SD 57328.
Expressions of sympathy may be extended to the family through mountfuneralhome.com.