Benjamin Spaans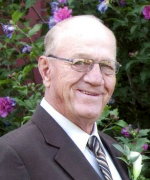 Benjamin Spaans, 76, passed away Sunday, September 12 at Avera St. Benedict Hospital in Parkston. Funeral service will be Friday, September 17 at 2:00 pm at Netherlands Reformed Church in Corsica. Visitation will be Thursday, September 16 from 5 to 7 pm with a 6:00 pm prayer service at Netherands Reformed Gym in Corsica. Arrangements by Koehn Bros. Funeral Home in Armour.
Benjamin Spaans was born July 26, 1945 to Dick and Tena (Zomer) Spaans in Douglas County, SD. He was united in marriage to Betty Muilenburg on December 27, 1963 in Corsica. He farmed for many years and then owned and operated Farmer Ben Trucking. He was a member of the Netherlands Reformed Church and enjoyed fishing and woodworking. Benjamin passed away Sunday, September 12, 2021 at Avera St. Benedict Hospital in Parkston, SD at the age of 76.
Grateful for having shared his life are his wife, Betty of Corsica; a son, Ben Spaans of Corsica; 4 daughters: Cindy (Ed) Bazen of Grand Rapids, MI; Lisa Weber and special friend, Donny of Casper, WY; Valerie (Craig) Bultje of Brandon, SD; and Tina (Brian) Carpenter of Kimball, NE; a brother, Leonard Spaans; grandchildren: Angela (Craig) Feenstra, Larisa (Cole) Solseng, Colin (Ashley) Bazen, Alexis Weber and friend Chris, Vanessa (Alex) Evans, Cierra Bultje and friend, Matthew, Morgan (Andrew) Caswell, Jayden Weber, Colton Bultje, Jenna Bazen and friend, Tyler, Sage Bultje, Noah Bultje, Benjamin Carpenter, and Taelyn Carpenter; great-grandchildren: Brianna, Bella and Brody Feenstra; Gracelyn, Bowen and Crew Solseng, Claire, Parker and Allie Bazen; and Liam Evans and many in-laws.
He was preceded in death by his parents, Dick and Tena Spaans; in-laws, Peter and Gertrude Muilenburg; a son-in-law, Bill Runge; a sister, Nellie (Pete) Bouma; 10 brothers: Herman (Clazina), Cornie, John, Henry, Albert, Dick Jr., Jim, Adrian, Marvin and Andrew (Doris) Spaans; sister-in-law: Elizabeth Spaans; brothers-in-law, Ken Muilenburg, John (Rosie) Muilenburg, Robert Muilenburg, Conrad Dean, and Dick Hoffman; and several nieces and nephews.