Norman Lauck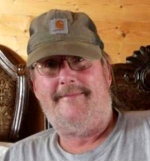 Norman Ray Lauck, 59, of Corsica, SD, passed away unexpectedly on Tuesday, September 27, 2022 at Douglas County Memorial Hospital in Armour, SD. A visitation with family present will be held from 5:00 – 8:00 p.m. on Friday, September 30, 2022 at Kinzley Funeral Home in Salem, SD.
Norman R. Lauck was born July 27, 1963 in Freeman, SD to Walter L. and Geraldine J. (Mammenga) Lauck. He grew up near Salem and graduated from Salem High School in 1982. On December 27, 1990 he married Deborah Wright.
Norman traveled the United States while working as a superintendent for Forby Contracting out of Hinkley, MN for over 34 years. His hobbies included hunting, fishing, travelling and spending time with family. He loved a good joke as well as canning and cooking.
Norman is survived by: his wife, Deb of Corsica; his children, Tammy (Joe) LeBeau of Mobridge, SD, Tonia Moore of Platte Center, NE and Terra Moore of Corsica, SD; his grandchildren, RJ and Shanlee LeBeau, Ariane LeBeau, Shyanne LeBeau, Tylyn LeBeau, Tia LeBeau, Joie LeBeau, Autumn and Jake Thayer, Jaysen Dugan, Emily Tienter, Colten Thompson and Kimia Tall Bear; his great-grandchildren, Raynan, Blake, Paxton, Emmie, Ellie and Maci; his mother, Geraldine of Salem, SD; his sisters, Sharon (Dan) Lawson, Laurie (Troy) Schwans, Mary (Doug) Koupal and Julie Cooper and nieces and nephews.
He was preceded in death by his father, Walter and his grandparents, Charlie Lauck Sr. and Elizabeth Lauck and Jake and Grace Mammenga .