Lenora Gruenewald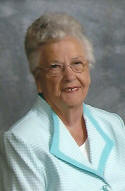 Lenora Gruenewald, 94, passed away at Good Samaritan Society in Corsica on Wednesday, July 15, 2020. Funeral service will be Monday, July 20, 2020 at 10:30 AM at Our Savior Lutheran Church in Corsica with burial following in Graceland Cemetery in Corsica. Visitation will be Sunday, July 19, 2020 from 6 - 8 PM at Our Savior Lutheran Church in Corsica with prayer service at 7:00 PM. Arrangements by Koehn Bros. Funeral Home in Armour.
Lenora Gruenewald was born on August 6, 1925 to Tony and Dena (Kuyper) Niewenhuis in Aurora County, SD. She attended grade school in Aurora County, then attended school in Stickney, SD and Corsica, SD. She then went on to earn her GED at the age of 50, then attained her SD Counseling and Addiction Certification. She worked at the SD Training School in Plankinton, SD; Mitchell Alcohol Drug Center, and Abbott House, both in Mitchell, SD.

Lenora married Leon Gruenewald on November 10, 1942 in Goldsboro, NC. To this union, 5 children were born, They farmed in Douglas County.

Lenora was a member of Our Savior Lutheran Church in Corsica. Three things were very important to Lenora; God's Grace, her faith, and her family. Her favorite bible verses were; Ephesians 2:8 - For by grace you have been saved through faith, and that not of yourselves; it is the gift of God, not of works, least anyone should boast. And Hebrews 11:1 - Now faith is the substance of things hoped for, the evidence of things not seen. Lenora passed away on Wednesday, July 15, 2020 at Good Samaritan Society in Corsica at the age of 94.

Surviving Lenora are 2 sons, Elroy (Sheryl) Gruenewald of Mitchell, SD and Robert Gruenewald of Corsica, SD; 2 daughters, Londa Robinson and Lindi (Roger) Hoekstra, both of Phoenix, AZ; 2 daughters-in-law, Judy Brink of Corsica, SD and Becky Gruenewald of Rapid City, SD; 16 grandchildren, and numerour great-grandchildren and numerous great-great-grandchildren.

She was preceded in death by her parents, husband, Leon, son, Ronald Gruenewald, 2 brothers, Alden Niewenhuis and Edwin "Bud" Niewenhuis, and 2 sisters, Dorothy VanderPol and Wilma DeWaard.

Officiating

Rev. April Peterson


Music

Cheryl Schryvers, organist

Leroy Blom, soloist


Casket Bearers

Nathan Blom, Steven Blom, Nick Blom, Dustin Bultje, Derek Bultje, Kiefer Johnson