Evelyn Holleman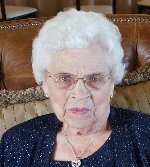 Evelyn Holleman, 90, of New Holland, SD passed away Sunday, March 7, 2021 at the Good Samaritan Society Corsica, SD. Funeral Services are 10:00 A.M. Thursday, March 11, 2021 at the New Holland Christian Reformed Church. A Committal Service will follow at New Holland Cemetery. Visitation will be held at the church from 9:00 - 10:00 A.M. on Thursday. Memorials in Evelyn's honor may be directed to: New Holland CRC Building Project, PO Box 3, New Holland, SD 57364. Mount Funeral Home of Platte is assisting with arrangements. Expressions of sympathy may be extended to the family through mountfuneralhome.com. The funeral will be live-streamed under "Photos and Videos" on the funeral home website and through Mount Funeral Homes Facebook page.
Evelyn (Van Zee) Holleman was born on April 26, 1930 to Fred and Jennie (Boer) Van Zee in Douglas County, SD. She attended country school and was united in marriage to Lyle Holleman in Douglas County on January 6, 1948. A determined and very hard worker, she helped on the farm, milked cows and raised dogs. She also worked at a sewing factory in Platte, SD and was employed at the Platte Care Center. She was an active member of the New Holland Christian Reformed Church.
Evelyn liked plants and had a green thumb when it came to her African Violets and Christmas Cactuses. She enjoyed crocheting, having coffee with friends and was an avid Twins Baseball fan. She will be remembered fondly for her delicious baking – especially her candied peanuts and pies. Evelyn loved her grandkids and family dearly and treasured the time she spent with them.
Grateful for having shared Evelyn's life, two children: Laura (John) Terveen of Happy Valley, OR and Robert (Jackie) Holleman of New Holland, SD; a son-in-law, Norman Ligtenberg of Cottage Grove, MN; 10 grandchildren and 13 great grandchildren: Kerry and Sara Ligtenberg (Reese, Ryder, Ava), Kevin and Charlie Ligtenberg (Myles), Matthew and Ellie Terveen (Riley, Charley), Anna Terveen, Olivia Terveen, Troy and Regan Holleman (Janaea, Brockston, Jade), Trevor and Beth Holleman (Landry, Adley, Lawson), Tommy and Cayla Holleman (Haven), Mary Lou Siems and Cheyenne Siems; a sister-in-law, Alice Van Zee of Platte, SD; along with several nieces and nephews.
Evelyn was preceded in death by: her husband, Lyle Holleman (Dec. 8, 2014); her daughter, Diane Ligtenberg; a granddaughter, Rachel Terveen; her parents, Fred and Jennie Van Zee; two sisters: Jeannette (Simon) Munneke and Myrtle (Hans) Groen; a brother, Alfred Van Zee; parents-in-law, Benjamin and Marie Holleman; and a sister-in-law, Berniece (Virgil) Ringling.
Officiating Pastor John Gorter Musical Selections "How Great Thou Art" "Amazing Grace", Solo "When Peace Like A River" Musician, Deb Van Zee Casket Bearers Kerry Ligtenberg Kevin Ligtenberg Matthew Terveen Troy Holleman Trevor Holleman Tommy Holleman