Stan Gerlach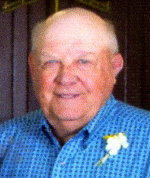 Stanley Herbert Gerlach, 73, went to his heavenly home Friday, May 14 at Avera Bormann Manor in Parkston. Funeral service will be Tuesday, May 18 at 10:30 AM at Amazing Grace Free Lutheran Church in Mt. Vernon. Visitation will be Monday, May 17 from 6 to 7 pm with a 7:00 pm prayer service at Amazing Grace Free Lutheran Church in Mt. Vernon. Arrangements by Koehn Bros. Funeral Home in Parkston.
Stanley was born July 29, 1947 to Herbert and Minnie (Moke) Gerlach in Parkston, SD. He grew up on the farm and attended country school in Garfield Township through the 8th grade. He attended Parkston High School where he was an outstanding athlete, especially in track. After graduating in 1965, he served his country in the South Dakota National Guard. He was united in marriage to Carol Koster on October 28, 1971 at Ss. Peter & Paul Catholic Church in Dimock, SD. Stanley worked for a short time at the Corsica Sale Barn but spend most of his life on the home place farming, first with his mother and eventually as the sole owner/operator of the farm. He was an avid farmer who enjoyed short drives just to check on the crop. He was a member of the American Legion, Corsica COOP board, Dimock COOP board, church council and enjoyed bowling and playing volleyball. He very much enjoyed attending his grandchildren's activities.
Grateful for having shared his life are 2 sons: Paul (Sarah) Gerlach of Corsica, SD and Jared (Michele) Gerlach of Corsica; 2 nephews he raised as his own: Curt Reinesch of Omaha, NE and Kevin (Sandra) Reinesch of Sioux Falls, SD; 10 grandchildren: Tyler (Shelby); Cole (Kaylee); Riley, Elese, Joshua (fiancée Brooke), Jordyn, Erynn, and Benjamin Gerlach and Jack (fiancée Coco) and Grace Reinesch; 3 great-grandchildren; 2 sisters: Arlene Paulson of Sioux Falls and Shirley (Jim) Bertsch of Kansas City, MO; and several nieces and nephews.
He was preceded in death by his parents; an infant son, Shawn; and a brother, Darwin.