Arleen Bye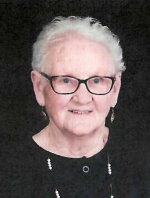 Arleen Bye, 94, of Mitchell, SD, died Friday, July 2, 2021 at Avera Brady Health and Rehab in Mitchell. Funeral services will be 10:30 AM Wednesday, July 7, at St. Paul Lutheran Church in Stickney. Burial will be at Ebenezer Lutheran Cemetery in rural Corsica. Visitation will be one hour prior to the funeral service at the Church. Arrangements by Bittner Funeral Chapel.
Arleen Delores Bye was born on November 29, 1926 in Sioux Falls, SD. She was adopted when she was three years old by Edwin and Mary (Everson) Haugum of rural Corsica. She was baptized and confirmed in the Lutheran faith which she steadfastly remained faithful to until the time of her death.
On June 2, 1948, Arleen was married to Bruce Bye at the home of Arleen's parents. From this union, Bruce and Arleen were blessed with four children: Audrey, Lola Mae, Renee, and Lowell. They farmed in the Corsica area until they retired and moved to Stickney in the fall of 1985. They celebrated their 50th anniversary together in June of 1998 and shortly thereafter, on December 26, 1998, Bruce passed away unexpectedly. Arleen remained in their home in Stickney until 2016.
Arleen enjoyed spending time with her family. She was an accomplished seamstress and used that talent to help sew many mission quilts through her Church, St. Paul Lutheran of Stickney, SD. She also enjoyed cooking and baking and shared that by cooking at the Stickney Senior Citizens Center and Legion Cafe* for several years when they first moved to Stickney.
Arleen is survived by her four children: Audrey (Jim) Handsel, Mitchell SD; Lola Mae (Pat) Cranny, Plankinton SD; Renee (Jim) Spaans, Mission TX; and Lowell (Merna) Bye, Corsica SD; five grandchildren: Darin Cranny and fiance' Anna Klein, Plankinton SD; Nicole (Craig) Roth, Tea SD; Kyle (Krysta) Spaans, Weisbaden Germany; Trevor (Brittany) Bye, Corsica, SD; and Adam Bye, Corsica SD; her great-grandchildren and great-great-grandchildren; sister-in-law, Darlene Bye; 2 nephews and one niece.
Arleen was preceded in death by her husband, Bruce; parents, Edwin and Mary Haugum; in-laws, Ingman and Myrtle Bye; and brother-in-law, Mervin Bye.