Brock Bordewyk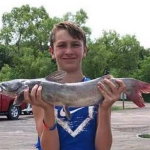 Brock Bordewyk, 13, of Stickney, SD, went to his heavenly home Friday, July 2, 2021, due to a sudden illness. A Celebration of Life service will be held in Brock's honor at 10:30 AM Thursday, July 8, at the Corsica-Stickney High School Gym in Corsica. Visitation will be from 5-7:00 PM Wednesday, at Northridge Baptist Church in Mitchell with a 6:00 PM prayer service. Arrangements by Bittner Funeral Chapel.
Mom's "Brockster". Dad's Buddy. Grandpa's favorite fishing partner.
Brock James Bordewyk was born to parents Monte Bordewyk and Jami Bordewyk, on December 3rd, 2007 in Mitchell, South Dakota. Brock attended Corsica-Stickney School, where he participated in choir, band, football, basketball, track, and baseball. Brock was outgoing and lived life to the fullest every single day.
Brock had a big heart and made friends with everyone he met, both young and old. He was passionate about all things fishing, hunting, sports, and the Minnesota Vikings. He had a joyful soul, enjoyed telling jokes, and making others laugh. Brock loved to give hugs, had an unwavering love for Jesus, and attended youth group at Aurora Reformed Church. Brock was a hard worker, and took pride in his duties at the Kuyper Pheasant Hatchery. He had hopes of pursuing a career as a Fishing guide or Game Warden.
His memory will forever be cherished by his parents, Monte Bordewyk, Jami Bordewyk & Justin Prickett; siblings, Bryce (19), Braylee (12), Brayden (10), and Asher (4); grandparents, Don and Mary Oakland, and Roger and Phyllis Bordewyk; great-grandparents, Jim and Cecila Oakland; aunts and uncles: Amy (Bryan) VanderPol, Tracy Oakland (Mike Reed), Jen (Darin) DeLange, Lindsy (Jdee) Schmidt, Mindy (Larry) Vogt, Amy (Wade) Hoefert, and Shane (Trish) Bordewyk; numerous cousins, and friends.
Brock was preceded in death by his uncle, Larry Vogt and great-grandparents, Henry and Linda Bordewyk, Ronald and Ceclia Roberts, and Robert and Jacqueline Miller.