Carol De Jong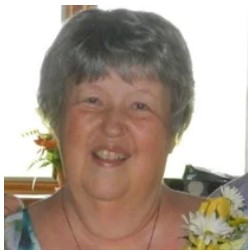 Carol W. De Jong, 76, of Freeport, went home to be with Jesus, Tuesday, July 20, 2021 at FHN Memorial Hospital, surrounded by her loving family. Carol was born February 19, 1945 in Grand Rapids, MI, the daughter of Gordon and Ethel (Hoekstra) Rooks. She married the love of her life, Peter De Jong, on May 31, 1967 in Grand Rapids. Together they partnered in ministry for over 38 years, serving congregations in New Mexico, Kansas, Montana, South Dakota and Illinois. Most recently, she was a committed member of Grace Valley Christian Reformed Church in German Valley. One of her greatest joys and gifts was playing piano and organ for worship on Sundays, as well as directing many cantatas and children's musicals.
Carol was a passionate advocate for Christian education, serving as a teacher for over twenty years, including eleven years at Tri-County Christian School and nine years at Dakota Christian School in Corsica, SD. She loved reading books, listening to Cubs' games on the radio, playing card games and going camping for family vacations. She especially loved spending time with her family and sisters. Her grandsons were the light of her life, and she enjoyed supporting them in all of their activities.
In all that she did, her faith in Christ was her greatest legacy and foundation. Her deep love for her Savior was evident in the many ways she demonstrated love and compassion to others behind the scenes and strove to instill that faith to her students and family. It was also deeply personal. She spent early mornings in prayer and God's Word each day, which had a profound impact on her family's faith journey.
Surviving is her husband Peter of Freeport, IL; son, Nathan (Jennifer) De Jong of Freeport, IL; daughters, Rachel De Jong of Freeport, IL and Miriam De Jong of Grand Rapids, three grandchildren, Dylan, Cadan and Evan; two sisters, Alice (Orville) Pasma of Grand Rapids, MI and Pat Brock of Dunedin, FL; siblings-in-law, Gary (Shirley), Alida (Lou) VanderMeer, Fran (Joel) Rus, daughter-in-law Suzanne Rousseau; also surviving are many nieces and nephews.
Carol was preceded in death by her beloved parents, step-father, Gerrit, in-laws, Sip and Shirley De Jong; and son, Daniel De Jong.
Funeral services will be 11:00 a.m. Monday July 26, 2021 at Grace Valley Christian Reformed Church, German Valley. A visitation will be held from 9:00 a.m. until the time of service.
Carol's service will be live streamed by using https://youtu.be/g1f8lHG0Txk Memorials have been established for both Dakota Christian School and Tri-County School in Carol's memory. Please sign her guestbook and share a remembrance at www.burketubbs.com