Michael Noteboom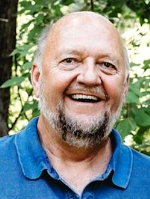 Michael J. Noteboom, 65, of Corsica SD, went to his heavenly home on September 12th, 2021. The visitation will be on Thursday, September 16th at 5:00 pm with a prayer service to follow at 7:00 pm at the Christian Reformed Church in Corsica. Funeral services will be 10:30 am on Friday, September 17th at the Christian Reformed Church in Corsica with a burial at Graceland Cemetery in Corsica, SD. Arrangements by Koehn Bros. Funeral Home in Armour.
Michael Junior Noteboom was born on April 11th, 1956, at the Corsica Clinic. He attended the Christian Grade School in Corsica until 8th grade. He then attended Corsica High School and exceled playing basketball for the Corsica Comets. He graduated in 1975 and went on to graduate from college at Northern State University.
On June 9th, 1979, he married his high school sweetheart Donna Miiller at Holy Trinity Catholic Church in Ethan, South Dakota. Together they were blessed with four children Stacey, Jenna, Tiffany, and Micah. He was very proud of them and always supported them and guided them. His faith in the Lord was always evident to his family. He loved fishing, going to the beach in South Dakota and Florida, playing cards, and attending his grandchildrens' activities.
Mike was passionate about promoting his hometown of Corsica and supported its development and growth. For 15 years, Mike served as an EMT for the Corsica Ambulance Association. He was a lifelong member of the Corsica Christian Reformed Church and served as a deacon, a Sunday school teacher, and a choir member. He was active in Commercial Club, Lions, and the Development Corporation.
He began his business career at Corsica Lumber and Supply. He later purchased the Corsica Implement with his father Peter 'Junior' Noteboom, and brother, Dan Noteboom in 1988. In 2008, they purchased the Parkston and Chamberlin Implements. In 2014 and 2016, they purchased additional John Deere Implements and Justin Noteboom, nephew, joined the business. The business was later renamed Noteboom Implement Incorporated. In 2018, the business was sold to C&B Operations and Mike began to enjoy his retirement.
Grateful for sharing his life is Donna, his loving wife of 42 years. Stacey and Aaron Manthey and their sons Thomas and Matthew, all of Sioux Falls, SD; Jenna and Josh Neugebauer and their daughters Adeline and Ella, all of Sioux Falls, SD; Tiffany and Michael Mailey and their sons Boden and Colton, all of Dell Rapids, SD; and Micah Noteboom of Sioux Falls, SD. Lucille Noteboom of Corsica, SD;
Dan and Jeanne Noteboom of Corsica, SD; Gwen Meeter of Sioux Falls, SD; Ivan and Sharon VanMarel of Corsica, SD; Laura and Troy Noteboom of Corsica, SD; Pauline Muntefering of Mitchell, SD; Jim and Marilyn Wilson of Mitchell, SD; Ron and LaRissa Miiller of Ethan, SD.
Mike was preceded in death by his grandparents Simon & Minnie and Marion & Pearl, step-grandmother Violet, father Peter 'Junior' Noteboom, father-in-law Clarence Miiller, brother-in-laws Dean Meeter and Glenn Miiller.