George Niewenhuis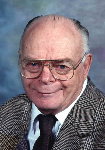 George Niewenhuis, 93, of New Holland, SD passed away Monday, September 27, 2021 at the Good Samaritan Society – Corsica, SD. Funeral Services are 10:30 AM Thursday, September 30, 2021 at the New Holland Christian Reformed Church. A Committal Service will follow at Harrison Cemetery, Harrison, SD. Visitation will be held at the church from 9:30 – 10:30 AM prior to services on Thursday. In lieu of flowers, memorials in George's honor may be directed to: New Holland CRC, PO Box 3, New Holland, SD 57364. Mount Funeral Home of Platte, SD is assisting with arrangements. Expressions of sympathy may be extended to the family through mountfuneralhome.com.
Cornelius George Niewenhuis was born on April 24, 1928 to John William and Anna (Spoelstra) Niewenhuis in rural Corsica, Douglas County, South Dakota. He attended Garden Valley Country School. Being born left-handed in a right-handed world in the early 1900's gave George some challenges in life.
However, his creativity excelled in his ability in building electric and hot air engines, building metal machinery, small engine repair and woodworking. In 1945, George attended Cayne Electrical School in Chicago. He also learned how to fly and enjoyed road trips on his scooter. George farmed with his brother, Gene and also drove gravel truck. After he moved to Arizona, he met the love of his life, Violet Steward. George and Vi were married on July 6, l974 in Colorado Springs, CO. They lived in Arizona several years where George was a custodian for a school district, had a carpet cleaning business, and also worked as a Security Guard. When they moved back to South Dakota, they retired on the family farm, living in the Montgomery Ward house his parents had built. George was a member of the New Holland Christian Reformed Church.
Those who shared in his life are: sister-in-law, Evelyn Niewenhuis of New Holland, SD and many nieces and nephews.
George was preceded in death by: his wife, Violet (Sept. 19, 2006); parents, William and Anne Niewenhuis; brother, Eugene Niewenhuis; and two sisters and their husbands: Evelyn and Howard VanderVeen and Glennys and John Feenstra.
Officiating:
Pastor Gary Maas
Musical Selections
"Great is Thy Faithfulness"
"My Jesus, I Love Thee"
"Amazing Grace"
Organist: JoEllen Dykstra
Casket Bearers
Jerry Baan Hofman
Doug Dykstra
Delwyn FeenstraDan Niewenhuis
Randy NiewenhuisWendell Niewenhuis
Wilmer Niewenhuis
Sherm VanderVeen