Phyllis Wieczorek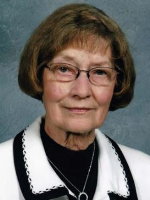 Phyllis Wieczorek, 96, of Corsica, SD, died Saturday, October 23, 2021, at Good Samaritan Center in Corsica. Funeral services will be 10:30 AM Thursday, October 28, at St. John Lutheran Church in rural Dimock. Burial will be at St. John Lutheran Cemetery in Dimock. Visitation will be one hour prior to the funeral service at the Church. Arrangements by Bittner Funeral Chapel.
Phyllis Marteen Wieczorek was born on October 23, 1925 to Albert and Gladys (Younie) Moller on the family farm near Mt. Vernon, SD. She attended Baker Township Grade School and graduated from Stickney High School in 1943. After high school, Phyllis was employed at the Davison County Court House in ASCS Office from 1943-1946.
Phyllis was united in marriage to Oliver Wieczorek on June 6, 1946 at St. John Lutheran Church in rural Dimock, SD. Together they began their married life on a farm in Aurora County. They raised three sons and one daughter, and remained active in every aspect of their lives. Phyllis was an industrious person, she enjoyed working on projects inside and outside of their home. After Oliver passed away on November 8, 2006, Phyllis continued to embrace the farm life and stayed on the farm.
Phyllis was a devoted and active member of the St. John Lutheran Church. She held several office positions, member of WELCA, and taught Sunday School. Phyllis was also the Aurora Township School Clerk for many years.
Phyllis is survived by her sons, Alan (Cheryl) Wieczorek of Lee's Summit, MO, Victor Wieczorek of Mt. Vernon, and Larry Wieczorek of Corsica; daughter, Janis (John) Wassilak of Cuba, MO; 8 grandchildren; 19 great-grandchildren.
She was preceded in death by her husband, Oliver; parents; brother, Gilbert (Lois) Moller; sisters, Evelyn (Lorenz) Gerlach, and Mary Louise (Calvin) Weiland; daughter-in-law, Barbara Wieczorek; sister-in-law and brother-in-law, Loraine and Phillip Bormann; and three nieces and one nephew.