Doris Reimnitz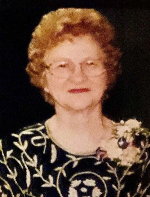 Doris Reimnitz, 100, of Mitchell, SD, died Friday, February 11, 2022, at Avera Brady Health and Rehab in Mitchell. Funeral services were held Tuesday, February 15, at First Lutheran Church in Mitchell. Burial was at Servicemen's Memorial Cemetery in Mitchell. Arrangements by Bittner Funeral Chapel.
Doris H. Reimnitz was born on December 21, 1921, to Herman and Gertie (Frerichs) Blume in Douglas County, SD, the youngest of three children. She was baptized and confirmed at St. Peter Lutheran Church, rural Armour. Her family lived five miles east of Corsica, and she attended a one-room schoolhouse through eighth grade. She then attended Corsica High School and graduated in 1940. She was united in marriage to Louis Reimnitz on June 8, 1947, at St Peter Lutheran Church. They had grown up together, although they didn't enter into courtship until after he returned home from WWII. She and Louis farmed together on her family's farm, they raised cows, hogs, turkeys, and chickens, along with various crops. They were blessed with six healthy children.
Over the years Doris was an active member at church which included teaching Sunday School and Vacation Bible School, attending her ALCW groups, quilting with the church ladies, helping to serve meals at numerous church activities, and visiting area nursing homes. She always raised a huge vegetable garden, and did lots of canning and freezing foods. Her passion was growing flowers, with her two favorites being irises and geraniums. She enjoyed sharing them with the church, family, friends, and at the Armour Nursing Home, where she was affectionately known as the "Flower Lady". She loved her family and would spend any free time playing games, cards, and reading to her children and grandchildren. She always made sure she had Kuchen and fruit slushies if family was coming to visit. After years of farming, raising her six children, going to dances and traveling on bus tours, she and Louis retired to Mitchell in 2004. After his health failed, they moved to the Avera Brady Nursing Home in Mitchell. In June of 2012, they celebrated their 65th wedding anniversary, and Louis passed away on October 23 of that year.
Those who are grateful for having shared her life include her six children: Lois (Glenn) Storm of Corsica, Richard (Lorene) Reimnitz of Mitchell, Mavis (Dick) Rath of Bozeman, MT, Sherry (John) Archer of Sioux Falls, Boyd (Kay) Reimnitz of Mitchell, and Wayne Reimnitz of Loomis; 21 grandchildren; 21 great-grandchildren; one sister-in-law, Wilma Reimnitz; and many nieces and nephews.
Doris was preceded in death by her loving husband, Louis; her parents; siblings, Louis Blume and Altie Fuoss; granddaughter, Tiffany Reimnitz; and her other sisters-in-law and brothers-in-law.