Loretta Van Genderen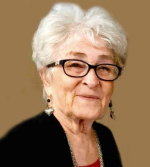 Loretta Van Genderen, 85, of Harrison, SD passed away Tuesday, March 1, 2022 at the Good Samaritan Society – Corsica, SD. Funeral Services are 10:30 AM Monday, March 7, 2022 at the Harrison Community Church (North), Harrison. A Committal Service will follow at Harrison Cemetery. Visitation will be held at the church from 9:30 – 10:30 AM on Monday. In lieu of flowers, memorials in Loretta's honor may be directed to: Harrison Cemetery, c/o Harlan Wolbrink, 38177 268th St., Corsica, SD 57328. Mount Funeral Home of Platte is assisting with arrangements. Expressions of sympathy may be extended to the family through mountfuneralhome.com.
Loretta (Schryvers) Van Genderen was born on December 18, 1936 to Jacob and Katherine Schryvers on the family farm northeast of Corsica in Douglas County, SD. She graduated from Corsica High School in 1954 and was united in marriage to Delmer Van Genderen on December 10, 1954 at her parent's home in Corsica. Living in Fort Sill, OK and Louisville, KY while Delmer was completing his basic training and during his service in the US Army. In 1957 they returned to Harrison, SD to farm and raise their family until 2018 when they moved into Leisure Living in Corsica. They have been residents of the Good Samaritan Society – Corsica since January of 2022.
Loretta was a member of the First Reformed Church in Harrison, had a knack for home decorating, and was an avid bowler, a skilled seamstress and gardener. Getting the family together for Sunday dinner was important to her. Loretta will be fondly remembered as a loving wife, mother and grandmother that always put family first.
Grateful for having shared in Loretta's life: her husband of over 67 years, Delmer Van Genderen of Corsica, SD; three children: Kevin (Jan) Van Genderen of Corsica, SD, Linda (Delwin) Feenstra of Harrison, SD and Brian (Jean) Van Genderen of Harrison, SD; eight grandchildren: Brooke (Jim) Lefers, Beau (Jessica) Van Genderen, Dustin (Val) Feenstra, Brett (Robin) Feenstra, Cody (Savannah) Feenstra, Bobbi (Nick) DeWispelaere, Ashley (Ben) Sevigny and Colt (Emily) Van Genderen; 18 great grandchildren; a sister, Irene VandenHoek of Mitchell, SD; in-laws: Sarah Punt, of Armour, SD, Margie Van Genderen of Stickney, SD, Robert Van Genderen of Stickney, SD, Mary (Alvin) VanderWerff of Lakewood, CO, Harlan (Judy) Van Genderen of Platte, SD, Norma (Roger) Feenstra of Harrison, SD and Marvin (Delores) Van Genderen of Plankinton, SD; along with many nieces and nephews.
Loretta was preceded in death by: her parents, Jacob and Katherine Schryvers; her parents-in-law, Harry and Jennie Van Genderen; and three brothers-in-law: Lloyd VandenHoek, Adames Punt and Lloyd Van Genderen.