John R Nydam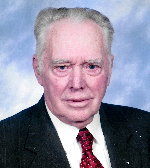 John Ralph Nydam, 98, of Corsica, SD passed away Friday, April 1, 2022 at the Good Samaritan Society – Corsica. Funeral Services are 10:30 AM Saturday, April 9, 2022 at the New Holland Christian Reformed Church. A Committal Service will follow at the New Holland Cemetery. Visitation will be held at the church from 9:30 – 10:30 AM prior to services on Saturday. In lieu of flowers, memorials in John's honor may be directed to: Gideons, PO Box 223, Platte, SD 57369.
Mount Funeral Home of Platte is assisting with arrangements. Expressions of sympathy may be extended to the family through mountfuneralhome.com. The funeral will be live-streamed under "Photos and Videos" on the funeral home website (Webcasting) and through "Mount Funeral Homes" Facebook page.
John Ralph Nydam was born on February 7, 1924 to John and Kate "Trijntje" (Maas) Nydam on the family farm in rural New Holland, SD. He attended Corsica High School and was united in marriage to Kathryn H. Klap on February 28, 1956 in Denver, CO. They moved to South Dakota to farm and raise their family near New Holland.
John was a member of the New Holland Christian Reformed Church and was active in the Gideons. He and Kathy loved to travel – taking memorable trips to Thailand, the Netherlands and throughout the United States.
Grateful for having shared in John's life: his three sons: Mark (Emily) Nydam of Wellesley, MA, Rodney (Ann) Nydam of Oakton, VA and David (Anne) Nydam of Needham, MA; four grandchildren: John, James, Trintje and Peter Nydam; four in-laws: Jean Allen, Sarah Riddering, Marian Stover and Herman Klap; along with many nieces and nephews.
John was preceded in death by his wife, Kathy Nydam (May 9, 1997); his parents, John and Kate Nydam; 10 siblings: Florence Faber, Agnes Heida, Joseph Nydam, Gertrude Spyksra, Elizabeth Nydam, Bert Nydam, John Nydam, Margaret Van Zee, Earl Nydam and Catharina Nydam; parents-in-law, Herman and Edith Klap; and two brothers-in-law: Lewis Klap and Henry Klap.