Leonard Baan Hofman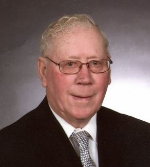 Leonard Baan Hofman, 90, died at his home near Corsica on Saturday, April 9, 2022. Funeral service will be at Harrison Community Church (South Church) on Friday, April 15, 2022 at 10:30 AM with committal services following in Harrison Cemetery. Visitation will be Thursday, April 14, 2022 from 5 - 6 PM at Harrison Community Church (South Church) with a prayer service at 6:00 PM. The family would like donation to be made to Dakota Christian School in lieu of flowers. Arrangements by Koehn Bros. Funeral Home in Armour.
Leonard Baan Hofman was born on August 14, 1931 near Harrison, SD to William and Bessie (DeVries) Baan Hofman. He attended country school. He entered the service in 1952. He was stationed in Alaska during the Korean War and was discharged in 1954. He married Arlene DeLange on February 21, 1956. Leonard was a member of the Christian Reformed Church in Harrison where he served as elder and deacon. He enjoyed farming, trucking, reading and spending time with family. He died at his home near Corsica on Saturday, April 9, 2022.
Grateful for having shard his life are his wife of 66 years, Arlene, 5 sons, Jerry (Marjo), Larry (Brenda), Randy (Connie), Myron (Julie) and Darcy (Darla), all reside near the family home, 19 grandchildren, 45 great-grandchildren, brother, Tony (Rozella), Sioux Falls, SD, and 4 sisters, Gert Snyder, Florida, Angie (Mike) Sterk, Mitchell, SD, Betsy (Chris) Crince, Illinois, and Rose Meyerik of Illinois.
He was preceded in death by his parents, parents-in-law, Jake and Marie DeLange, 2 brothers, Martin (2 months old) and Martin "Butch" (11 years old), sister, Irene, 4 brothers-in-law, Frank Spoolstra, Bob Snyder, Bert Meyerink, and Sylvan Bleeker, and sister-in-law, Hazel Bamberg.

Officiating
Pastor Gary Maas
Music
Beth Maas, organist
Casket Bearers
Brady Baan Hofman, April Van Dyke, Kirbey Baan Hofman, Zach Baan Hofman, Alex Baan Hofman, Lane Baan Hofman, Gunner Baan Hofman, Walker Baan
Hofman, Reed Baan Hofman