Vickie Guenthner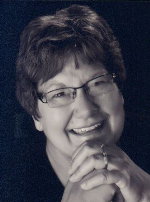 Vickie Lynn Guenthner, 67, went to her heavenly home Saturday, April 23 at Sanford Hospital in Sioux Falls. Funeral service will be Friday, April 29 at 10:30 am at the United Methodist Church in Stickney. Visitation will be Thursday, April 28 from 5 to 7 pm with a 7:00 pm prayer service at the United Methodist Church in Stickney.
Vickie was born January 12, 1955 to Andrew and Elsie (Den Besten) Van Den Oever, the youngest of six children. She was called home unexpectedly on Saturday, April 23, 2022. She attended grade school at the Gardener School all 8 grades and graduated from Stickney High School in 1973. She attended and graduated from Northern State College in 1976. Vickie married Jim Guenthner on July 26, 1974, in Aurora Center. Three children were born to them Jonathan, Megan and David.
Vickie taught school for 45 years, 1 year in Warner, SD, 3 years in Herreid, SD, 12 years in Centerville, SD and 29 years in Stickney where she retired from in 2021. Teaching was her profession; her faith and family were her passion. Unselfish service describes Vickie, she always put others first.
Grateful for having shared her life are her husband of 47 years Jim, Children Jonathan (Abbey), Mitchell, SD Megan (Derek) Simonsen, Baltic, SD and David, Aberdeen SD. Seven grandchildren Emersyn, Cooper, Bentley and Crosby Guenthner; Palmer, Sawyer, and Parker Simonsen; Mother-in-law Grace Guenthner; Brothers, Pete (Charlene) Van Den Oever, Lennox, SD, Ken Van Den Oever, Aurora Center, SD, Roger Van Den Oever, Stickney, SD, Sister Bonnie Bolt, Alamosa, CO and many nieces and nephews.
She was preceded in death, by her parents Andrew and Elsie Van Den Oever, Father in Law Cliff Guenthner, Brother Ronnie Van Den Oever, Brother in Law Rod Bolt, Sister in Law Elaine Van Den Oever and two nephews Robbie Bolt and Leon Bolt.