Donna Mae Bormann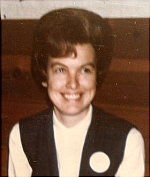 Donna Mae Bormann, 84, died at her home in Corsica on Thursday, May 19, 2022. Funeral service will be Thursday, May 26, 2022 at 10:30 AM at St. John's Lutheran Church near Dimock, SD with visitation an hour prior to the service. Burial following in Blooming Valley Cemetery near Corsica, SD.
Donna Mae Bormann was born on May 9, 1938 at home in Corsica, SD to John and Hilda (Westra) Van Ekeren. She was baptized at Christian Reformed Church in Corsica and later joined Blooming Valley Church near Corsica in 1958. She went to grade school and high school in Corsica and graduated in 1956. On June 20, 1958 she marred Dale Bormann at Christian Reformed Church in Corsica. Together, they had a son, Mark Alan on February 10, 1961. They lived in the Corsica area their entire life. Donna Mae worked at several grocery stores, in the office at Corsica Livestock Sales as a clerk, was a pharmacy tech at Graham Drug and Avera Pharmacy for over 25 years. She retired at age 70 in 2008. She was a member of Blooming Valley Church, Church Council and Blooming Valley Cemetery Association. She taught Bible School and volunteered at Corsica Nursing Home. She enjoyed going to Coffee Break at Christian Reformed Church for many years. Donna Mae loved music, playing piano and trombone, singing in the mixed choirs. While in high school she attended all state choir and band. She enjoyed doing crossword puzzles, playing scrabble, reading watching TV game shows, visiting with relatives and friends and shopping with her sister, Doris. She died at her home in Corsica on Thursday, May 19, 2022 at the age of 84.

Grateful for sharing her life, husband, Dale of Corsica, SD, brother-in-law, Gordon Kredit and wife, Mary Lou, and many nieces and nephews, Doug, Curt, Kathy, Tom and their families, in-law, Mardell Dockendorf.

She was preceded in death by her son, Mark Alan Bormann, parents, John and Hilda Van Ekeren, sister, Doris Kredit, parents-in-law, Walter and Bertha Bormann, in-laws, Don Bormann, Delmer Bormann, Gib Bamberg, Dale Dockendorf, Eunice Bormann, Beverly Bamberg, and Bernice Bormann.