Jim Tegethoff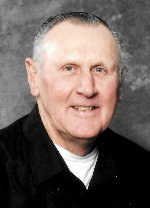 Benjamin "Jim" Tegethoff, Jr., 81 of Corsica, SD passed away Tuesday, June 21, 2022 at the Good Samaritan Society – Corsica. Funeral Services are 10:00 AM Saturday, June 25, 2022 at Aurora Reformed Church, Aurora Center, SD. A Committal Service with Military Honors will follow at the Aurora Reformed Cemetery. Visitation will be held at the church from 6:00 – 7:00 PM Friday, June 24, 2022 with a 7:00 PM Prayer Service. In lieu of flowers, memorials in Jim's memory may be directed to: Everson-Beukelman American Legion Post #274, Aurora Reformed Church, VanderPol Christian Academy, or Living Water Teaching. Mount Funeral Home of Platte is assisting with arrangements. Expressions of sympathy may be extended to the family through mountfuneralhome.com.
Benjamin "Jim" Tegethoff, Jr. was born on August 15, 1940 to Benjamin and Effie (Dykstra) Tegethoff at the family home in Harrison, SD. He attended school through the ninth grade, earned his GED and started his lifelong career in farming. Jim served his country in the US Army from November of 1963 till November of 1965, stationed in Colorado Springs, CO. On December 17, 1965, Jim was united in marriage to Betty VandenHoek at the Harrison Christian Reformed Church.
Jim was an active member of the Aurora Reformed Church, as both Deacon and Elder; was a member of Everson-Beukelman American Legion Post #274 of Corsica, and served on Township Boards. Jim was a resourceful man who maintained the family's cars and his farm equipment. As a true farmer, he kept a watchful eye on the crops in the local area. Jim regularly joined friends for coffee in the morning.
Jim greatly loved his grandchildren. Supporting them in their various activities brought him much joy and delight. He also enjoyed playing cards, bowling, and dancing.
Grateful for having shared in Jim's life: his beloved wife of over 56 years, Betty Tegethoff of Corsica, SD; their six children: Ronda (Craig) Samuelson of Sioux Falls, SD, Randy (Marla) Tegethoff of Platte, SD, Bryan (Carrie) Tegethoff of Bloomingdale, MI, Brenda (Kevin) Werkmeister of Armour, SD, Travis (Shannon) Tegethoff of Platte, SD and Trent (Lisa) Tegethoff of Sioux Falls, SD; 16 grandchildren; five great grandchildren; in-laws: Karen Tegethoff of Harrison, SD, Dennis (Mavis) VandenHoek of Stickney, SD, Mavis (Wayne) Bultje of Corsica, SD and Carol (Randy) Breukelman of Mitchell, SD; along with many nieces, nephews and cousins.
Jim was preceded in death by: his parents, Benjamin and Effie Tegethoff; three brothers: Joe (Ann) Tegethoff, Vern Tegethoff and an infant brother; and in-laws: Arie and Emma VandenHoek, Donald VandenHoek, Ed VandenHoek, Sylvia (Winfred) Nydam.