Yvonne Bindert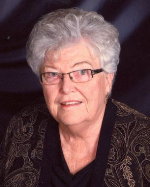 Yvonne Jean Bindert, 82, died at Good Samaritan Center in Corsica on Tuesday, August 16, 2022. Funeral service will be Saturday, August 20, 2022 at 10:30 AM at Redeemer Lutheran Church in Armour with burial following in Pleasant Ridge Cemetery in Armour. Visitation will be at Redeemer Lutheran Church from 5 - 7 PM at Redeemer Lutheran Church in Armour with a prayer service at 7:00 PM.
Yvonne Jean Ligtenberg daughter of Henry M. Ligtenberg and Susanna (Esther) Bobeldyk was born October 9, 1939 in rural Douglas County and passed away August 16, 2022 at the Good Samaritan Society in Corsica. She attended the Storm School in rural Armour, Corsica High School, and graduated from Armour High School in 1957. On September 18, 1957 Yvonne was united in marriage to Lyle E. Storm at Corsica, they were the parents of Vincent H. Storm and Virginia M. Storm, they farmed the Storm family farm until Lyle died in a farm accident April 17, 1989. On June 13, 1998. Yvonne married Kenneth L. Bindert at Armour. They farmed south of Armour until 2009 and lived on the farm until they moved to Armour in 2019. Yvonne did many different things throughout her working years and retired from the Mitchell Queen of Peace Hospital Dietary Department in 2005. After retiring she enjoyed making quilts and donated hundreds to many charitable organizations.
She is survived by her husband, Kenny; 2 children, Vince (Lisa) Storm of Pickstown, SD, Ginny (Rich Horn) Storm Rapid City, SD; 1 granddaughter, Makenzie (Kevin Olney) Hagedorn of Harrisburg, SD; 5 bonus grandsons, Mike (Lauren) Horn of San Antonio, TX, Cameron (Alex) Horn of Cheyenne, WY, Travis (Kelsey) Horn of Cheyenne, WY; Jason Groeneweg of Sioux Falls, SD, and Dustin (April) Groeneweg of Gulf Breeze, FL; 2 great-grandchildren; 6 bonus great-grandchildren; sister Dona (Louie) Bamberg of Corsica, SD; brother in-law Terry (Colette) Hochhalter of Armour, SD, sister-in-law Mabel Bindert of Armour, SD, sister-in-law Arleen Garner of Bismark, ND; and an aunt LuVerne Star of Corsica, SD.
She was preceded in death by her parents, first-husband, brother, Leon Ligtenberg, great-granddaughter, Jaedyn Olney, 5 bothers-in-law, and 3 sisters-in-law.
In lieu of flowers, memorials will be donated to the Corsica Good Samaritan Society and Redeemer Lutheran Church.