Ruby DeVries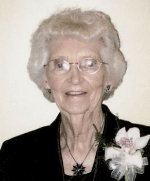 Ruby DeVries, 99, died at United Living Community in Brookings, SD on Wednesday, August 31, 2022. Funeral service will be Thursday, September 8, 2022 at 10:30 AM at Harrison Community Church (North Church) in Harrison with committal following in Harrison Cemetery. Visitation will be Wednesday, September 7, 2022 from 5 - 7 PM at Harrison Community Church (North Church) with prayer service at 6:30 PM. In lieu of flowers the family requests donations be made to the Harrison Community Church Building Fund or the Harrison Cemetery Fund.
Ruby Uilenberg DeVries was born on April 27, 1923, at the home of her parents Tiddens and Maaike (Maggie) Tuinstra Uilenberg in Harrison, SD. She passed away at United Living Community in Brookings, SD, on August 31, 2022, at the age of 99.
She was baptized as an infant in the First Reformed Church in Harrison. In her teen years she became a member of that church, confessing Jesus Christ as her Lord and Savior. Ruby attended Harrison Public School through the ninth grade and graduated from Corsica High School in 1941. She earned her teaching degree at Southern State Normal School in Springfield. She taught at the Harrison Public School and at rural schools in Douglas and Aurora counties. During WWII she worked two summers in California at an aircraft factory.
On June 17, 1947, she married Raymond E. DeVries and moved to a farm north of Harrison. To this union four children were born: Mary, David, Ruth, and Laura. After farming 18 years the family moved to Harrison where Ray went into the hardware business and later started a well repair business. Ruby helped in the hardware store and she and Ray served as custodians in the church for 14 years. Ruby loved to sew, making many quilts and various types of clothing. She enjoyed playing the pipe organ for many years at her church. She loved playing games with family and friends and spending time with her grandchildren. She and Ray loved to travel and especially enjoyed their trips to the Netherlands in 1990 and 2003.
Ruby lived in Harrison until 2016 when she moved to Brookings, SD, living independently until August 2021 when she moved to Dakota Sun Assisted Living in Volga, SD, and subsequently to the United Living Community in Brookings in August 2022.
Ruby is survived by her daughters: Mary (Douglas) O'Neill of Brookings, SD, Ruth (Scott) Fehrenkamp of Palm Coast, FL, and Laura (Patrick) Cosgriff of Layton, UT; daughter-in-law Rose Rasmussen-DeVries of Gillette, WY; 13 grandchildren, 19 great-grandchildren; and sisters-in-law Charlotte Uilenberg and Clara Kiel.
She was preceded in death by her husband Raymond, son David, brothers Richard and Dirk, sister Renzina, ten sisters-in-law, and seven brothers-in-law.