Nona Markus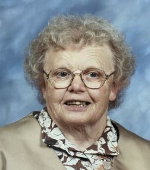 Nona Lucille Markus, 90, died at Avera Brady Health and Rehab in Mitchell on Saturday, October 1, 2022. Funeral service will be Monday, October 10, 2022 at 11:00 AM at Harrison Community Church (North Church) with burial following in Harrison Cemetery. Visitation will be Monday, October 10, 2022 from 10 - 11 AM at Harrison Community Church (North Church). Arrangements by Koehn Bros. Funeral Home.
Nona Lucille Markus was born on April 2, 1932 to Jacob L. and Jennie (Doorn) Markus in Harrison, SD. She graduated from Corsica High School then attended Northwestern Jr. College in Orange City, IA and graduated from Southern State College in Springfield, SD with a Bachelor of Science Degree in Elementary Education. Nona taught in various country schools until 1969 when she began teaching at Corsica Elementary where she taught Kindergarten and Title One. In May 1989, she retired from teaching after 38 years (1951-1989).
She was a baptized member of First Reformed Church in Harrison where she taught Sunday School and Vacation Bible School for 40 years. She shared her love of reading being the church librarian and loved singing in the church choir. After retirement, she enjoyed her hobby of finding out-of-print music and books for herself and others.
She is survived by 1 sister-in law, Dorothy Markus of Chamberlain, SD and many nieces and nephews and their families.
She was preceded in death by her parents, her brother, Milford Markus; her brother and sister-in-law, Dennis and Doris Markus; and her sister, Marlene (Markus) Plooster and brother-in-law, Dean Plooster; her niece, Peggy (Markus) Pringle; her nephew, Darin Markus; and her niece, Karla (Plooster) Peter.