Harold Van Zee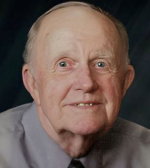 Harold Merlin Van Zee, 95, of Tea, formerly of Platte and rural New Holland, South Dakota, entered into God's Kingdom on January 24, 2023. A private burial will be held and a Celebration of Life will be planned at a later date.
He was born to Fred and Wyna (Keuning) Van Zee on January 17, 1928, on a farm near New Holland, South Dakota. He attended New Holland Christian School. Harold was united in marriage to Jeanette Hansum on November 25, 1946. Together, they purchased a farm near Joubert, SD, where they lived and farmed for the next 46 years. The Lord blessed them with two children, Roger and Wanda.
In addition to being a dedicated and loving husband, father and grandfather, Harold was a faithful member of the church and the community, serving as a Deacon for the New Holland Christian Reformed Church as well as a board member of the New Holland Christian School. Throughout his entire life, Harold held an unwavering faith in God, which he shared with those who surrounded him.
Harold loved hunting, bowling and working on the farm. In retirement, he enjoyed weekly coffee get-togethers with his friends and spending time with his grandchildren. His grandchildren will always fondly remember tractor rides and following him around his farm outside of New Holland.
He will be greatly missed by this wife of 76 years, Jeanette: his children Roger Van Zee of Sioux Falls, SD, and Wanda Hohn of Mitchell, SD; grandchildren, Derek Hohn, Kristina (Sid) Vowles, Megan (Robert) Rolfson and Vanessa Hohn as well as numerous extended family members and friends.
Harold was preceded in death by: his parents, Fred H. and Wyna Van Zee; his step-father, Herman Hansum, a brother, Marvin Van Zee and a sister, Juna Mae Van Zee and several in-laws.