Clarence Zomer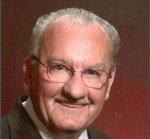 Clarence Zomer, 82, of Sioux Falls, SD passed away on Sunday, February 26, 2023 at Good Samaritan Center in Sioux Falls, SD.
Funeral Service will be 2:00 pm Thursday, March 2, at Netherlands Reformed Church, 620 E. 1st Street, Corsica, SD with burial at the Graceland Cemetery in Corsica, SD.
Visitation with the family present to greet friends will be from 5:00 – 7:00 pm Wednesday, March 1, at Miller Funeral Home Southside Chapel, 7400 S. Minnesota Ave., Sioux Falls, SD.
Clarence Zomer, son of Herman Sr. and Helena (Spaans) Zomer, was born in Corsica, SD on February 2, 1941. He grew up on a farm near Corsica where he attended school and worked at the local cooperative and the Livestock Sales Barn.
He was united in marriage with Emma Marlene Schelling on December 22, 1959. They lived in Corsica for a few years before returning to the family farm in 1962. He farmed for several years where he raised livestock and crops.
They sold the farm and moved to Sioux Falls, SD in 1982. Clarence worked at Hiebert's Greenhouse for many years as a truck driver delivering flowers and plants to the five-state area. He purchased and managed rental properties before starting his business Small Jobs Only. He worked with several local contractors hauling dirt and concrete tear outs until April 2015. He also worked at Mayrath Industries, H2O car wash and the City of Sioux Falls.
He was a member of the Netherlands Reformed Congregation Church in Corsica, SD before transferring his membership to the Netherlands Reform Church in Sioux Falls, SD in 1982.
Clarence was an active member of the AA meetings on the Sioux Falls Westside. His AA friends were a big part of his life and recovery. In 2021, he celebrated 25 years of sobriety.
Clarence is survived by his wife, Emma Marlene Zomer and 6 children, Douglas Zomer (Diana) of Sun Prairie, WI, Debra Walton (Gary) of Mitchell, SD, Sally Sehr (Eugene), Scott Zomer (Renee' Sherwood), Vickie Zomer all of Sioux Falls, SD and Vandal Zomer (Kristine) of Mitchell, SD; 12 grandchildren; 15 great grandchildren; 1 sister, Betty Rozeboom of Rock Valley, IA; 2 brothers-in-law, Cornie Schelling (Jean) of Corsica, SD, Ivan VanderWerff of Armour, SD; 5 sisters-in-law, Jeane Zomer of Rock Valley, IA, Joanne Zomer of Sioux Center, IA, Betty Powell of Sioux City, IA, and Shirley Weisser of Delmont, SD.
Clarence was preceded in death by his parents, Herman and Helena Zomer; parents-in-law, B.D. and Marie (Ymker) Schelling; 2 brothers, Herman Zomer Jr. and Cornie Zomer; 2 sisters, Hermina Rozeboom and Nellie Rozeboom; 9 brothers-in-laws, Dick L. Rozeboom, Cozyn Rozeboom, Dick G. Rozeboom, Harold Hubers, Lambert Schelling, Frank Powell and John A. Schelling, Rochus Schelling; 4 sisters-in-law, Minnie Jean VanderWerff, Marian Schelling, Corrie Schelling, and Hattie Hubers.