Lavonne DeBoer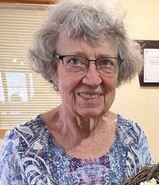 Lavonne DeBoer was born on June 7th, 1945, to Donald and Gertrude (VanderSteen) DeBoer in Corsica, South Dakota. She was the third born of four children. Lavonne grew up in the Corsica area and graduated from Corsica High School.
She then went on to Southern State College in Springfield, SD for education/teaching. After receiving her Bachelor's, she went on to Michigan State University in Lansing, MI, for her Master's in Education and Special Reading. Lavonne devoted her life's work to teaching special needs children and elementary school. She once said that she taught a little boy to read by setting a book on a podium and letting him walk around it in circles, reading from the book. She loved children and even spent countless hours tutoring children and building up Children's Worship programs in church. Lavonne spent most of her teaching career in Florida at the Bradenton Christian School.
In 2016, Lavonne moved back to Corsica, SD. She spent her time tutoring, doing volunteer work at the Dakota Christian School, reading to kids in the library for the Children's Story Hour, being active in Priscilla Club, and being active in the Harrison Community Church doing Children's Worship and singing in the choir. She enjoyed sewing, quilting, reading, visiting with others, and walks around the neighborhood.
Lavonne was passionate about teaching others of the love of Jesus and God, and she would share about her love for them as well. She had the brightest heart for children and loved spending time with them. Lavonne would sit right on the floor with them and play or tell Bible stories. She would laugh at all the funny things that they would say and be genuinely interested in their stories. After they were done with their long tales, she would laugh and clap her hands with such joy!!
Lavonne passed away on August 3, 2023, at Edgewood Memory Care in Mitchell, SD, at the age of 78 years.
Grateful for sharing in her life are her niece and nephews, Richard (Leena) Windmiller, Rachel (Mike) Brandt, Calvin (Angela) DeBoer, Chuck (Ayrica) DeBoer, Jeff (Mary) DeBoer, sister-in-law Sharon DeBoer, and many great nieces and nephews.
She is preceded in death by her parents-Donald and Gertrude, her siblings-James D. DeBoer, Dorothy DeBoer, and Mary (DeBoer) Windmiller.