Joyce Star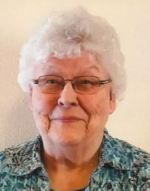 Joyce Mae Van Kooten was born on September 19, 1932, in Mahaska County near Taintor, Iowa. Joyce, a daughter of Henry and Wilma (Vande Kieft) Van Kooten, attended the Bryan Country School near New Sharon, Iowa, graduated from New Sharon High School, and Calvin College in Grand Rapids, Michigan.
She then began her teaching career. She taught one year at Bryan Country School and subsequently at Christian Schools in Oskaloosa, Iowa, Sheboygan, Wisconsin, and Orange City, Iowa.
Joyce and Edward Star were then united in marriage on June 19, 1964, at New Sharon and blended into their family his children: Kimberly and Darwin. They lived their entire married life, 50 years in Corsica, South Dakota. Joyce taught parttime in Corsica at Christian and public schools. She was a piano teacher for more than 50 years teaching some 463 students during that time.
She was baptized at the Peoria Christian Reformed Church in Peoria, Iowa, made profession of her faith at the Bethel Christian Reformed Church in Oskaloosa, Iowa, and was a member of the Christian Reformed Church in Corsica until moving back to Pella, Iowa when she transferred her membership back to her original church home in Peoria. During this time she was a church organist for 49 years, was a member of Dorcas Society, led coffee break, and a community Bible study for 28 years.
She corrected prisoner Bible lessons for Crossroad Prison Ministry for 17 years, but most importantly read through her Bible entirely 33 times in 33 years.
Following her husband, Edd's death, his wish was that she move back to her home area to be closer to their daughter, Kimberly, and her extended family whom she came to admire so much. Joyce moved on March 31, 2015, and continued to reside in Pella where she passed away on Monday morning, August 14, 2023, at the age of 90 years.
Joyce is survived by her daughter, Kimberly Traynham, of Des Moines, Iowa and her children: Keyette Star, A.J. Star and Abby and their daughter, Gianna, and Kimeisha Star. Her son, Darwin Star, predeceased her and leaves his two sons: Chad and Amanda Star and their children: Dylan, Austin, and Brooklyn, Cody and Adrianna Star and their two children: Camden and Alexa. Of her original family she leaves one sister-in-law, Dorothy (Richard) Van Kooten of Pella, Iowa; along with her extended family of nieces and nephews.
She was preceded in death by her husband, Edd Star, their son, Darwin Star, son-in-law, Algie Traynham, grandson, Jonathon Star; her parents, Henry and Wilma Van Kooten, her brothers: Calvin Van Kooten and Richard Van Kooten, her sisters: Betty Virginia Van Kooten, Iris and her husband, Gilbert Vander Hart; and in-laws: Naomi and John Poelstra, Loretta and Quintin Vanden Hoek. Joyce, the encourager she was, prayed daily "Lord, Lead Me, Guide Me, Walk Beside Me". "The trials of this life tend to loosen our hold on this earth and help us anticipate our ascent to Glory"
Funeral services will be held on Wednesday, August 16, 2023 at 5:00 pm at Peoria Christian Reformed Church, Peoria, Iowa.
Visitation will follow the funeral service on Wednesday at the church.
Committal service will be held on Friday, August 18, 2023 at Corsica, South Dakota.
Memorial contributions may be given for Crossroad Prison Ministry