Lawrie Lefers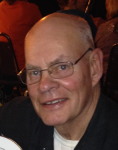 Lawrie Lee Lefers, 77, went to his heavenly home Thursday, September 28 at Good Samaritan Center – Corsica. Funeral service will be Monday, October 2 at 10:30 am at Christian Reformed Church in Corsica with burial following in Harrison City Cemetery. Visitation will be Sunday, October 1 from 5 to 7 pm with a 7:00 pm prayer service at Christian Reformed Church in Corsica. Arrangements by Koehn Bros. Funeral Home in Armour.
Lawrie was born April 21, 1946 to Edmond and Florence (DeBoer) Lefers in Chester, SD. As a youth, his family moved to a farm near Corsica, SD where he grew up. He attended Corsica Christian School through the 8th grade. At the completion of his schooling, he began helping his parents on the farm and worked for COOP. He was united in marriage to Bev Hubers on February 14, 1969. The couple farmed near Harrison, SD where they would live and raise their family. Lawrie was a member of Christian Reformed Church where he served as an elder and deacon. He was also a member of the Gideons and served on the school board. He loved spending time with his family and visiting with anyone and everyone.
Grateful for having shared his life are his wife, Bev of Corsica; 5 children: Keith (Leanne) Lefers of Lennox, SD; Karla (Tom) Prinsen of Sioux Center, IA; Kevin (Marissa) Lefers of Corsica; Troy Lefers of Lennox; and Janel (Nick) Menning of Mitchell, SD; 12 grandchildren: Bethany (Jared) Eggers, Calvin (Makayli) Prinsen, Allison (Jace) Pulse, Megan Lefers, Ashlyn Lefers, Presleigh Lefers, Slater Lefers, Denver Lefers, Emory Lefers, Jevyn Lefers, Micah Menning and Morgan Menning; 6 great-grandchildren; 2 brothers, Roger Lefers of Chicago, IL and Wayne (Janet) Lefers of Corsica; and 2 sisters, Norma (Clare) Lubben of Holland, MI and Donna (Glen) VanderLey of Pella, IA.
He was preceded in death by his parents; son, Paul; brother, Dean; sister-in-law, Donna Lefers; and 2 nephews, Galen and David Lefers.